ISMP has received reports from two different hospitals about McKesson packaged levetiracetam 250 unit dose blister packages that have a barcode that scans as naproxen 500 mg. Apparently one side of the unit dose blister of 10 levetiracetam tablets scans properly, but the barcode on other side indicates that the blister contains naproxen 500 mg. The NDC number is 63739-795-10.  The lot number in both cases is 0000124916.
Based on visual inspection of the tablet and imprint code, the tablets contained in the blister pack all appear to be levetiracetam 250 mg. 
ISMP has been in touch with McKesson Packaging and they are investigating. ISMP has also alerted the US Food and Drug Administration.
Scanning the mislabeled package may lead to a misfill when using automated medication inventory storage devices or automated dispensing systems, and may ultimately contribute to a wrong drug error. If scanned during medication administration, it could generate a wrong drug alert which could lead to confusion and treatment delays or it might document administration of the wrong drug.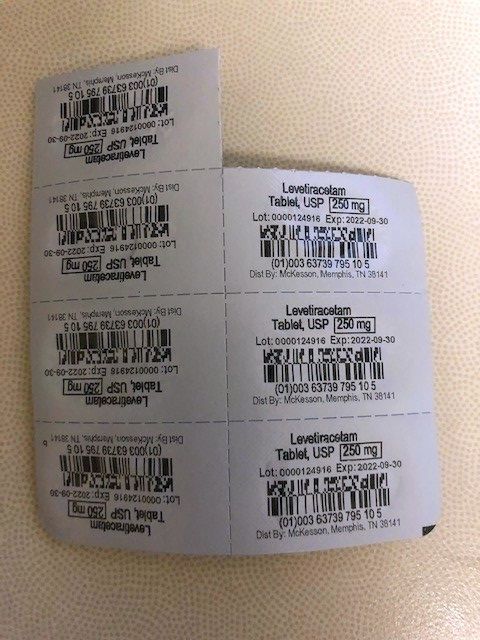 More Alerts
URGENT – HAZARDOUS SITUATION – PLEASE REACT IMMEDIATELY ISMP is aware of an extremely hazardous packaging error involving certain cisatracurium products from Meitheal Pharmaceuticals. While the outer carton identifies the vials inside as cisatracurium, the vials contained in the carton are labeled
We recently learned about three cases of accidental spinal injection of tranexamic acid instead of a local anesthetic intended for regional (spinal) anesthesia. Container mix-ups were involved in each case. In one case, a patient scheduled for knee surgery received tranexamic acid instead of
ISMP and the US FDA continue to receive medication error reports about patients and caregivers who apply only the adhesive cover to the skin, without the intended cloNIDine medication patch.