ISMP has received reports from two different hospitals about McKesson packaged levetiracetam 250 unit dose blister packages that have a barcode that scans as naproxen 500 mg. Apparently one side of the unit dose blister of 10 levetiracetam tablets scans properly, but the barcode on other side indicates that the blister contains naproxen 500 mg. The NDC number is 63739-795-10.  The lot number in both cases is 0000124916.
Based on visual inspection of the tablet and imprint code, the tablets contained in the blister pack all appear to be levetiracetam 250 mg. 
ISMP has been in touch with McKesson Packaging and they are investigating. ISMP has also alerted the US Food and Drug Administration.
Scanning the mislabeled package may lead to a misfill when using automated medication inventory storage devices or automated dispensing systems, and may ultimately contribute to a wrong drug error. If scanned during medication administration, it could generate a wrong drug alert which could lead to confusion and treatment delays or it might document administration of the wrong drug.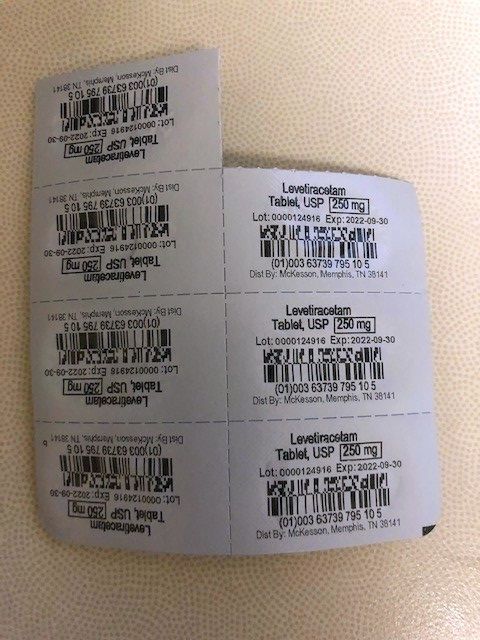 More Alerts
ISMP has received reports from several healthcare institutions that recently received cardboard cases labeled "Isoflurane USP 100 mL" by Piramal Critical Care (NDC 66794-017-10) (Figure 1) that actually contained bottles of Isoflurane, USP 100 mL labeled "for animal use only" by Covetrus (NDC 11695
B. Braun recently announced a new presentation of potassium chloride for injection concentrate (2 mEq/mL) in a 250 mL EXCEL container plastic bag with blue and red labeling, and a blocked medication port. The 250 mL product is a pharmacy bulk package and should only be used in a pharmacy admixture
On December 22, 2021, the US Food and Drug Administration (FDA) issued an Emergency Use Authorization (EUA) for PAXLOVID, consisting of oral tablets of nirmatrelvir that are co-packaged with oral tablets of ritonavir (an FDA-approved antiretroviral agent). Indications Emergency use of Paxlovid is