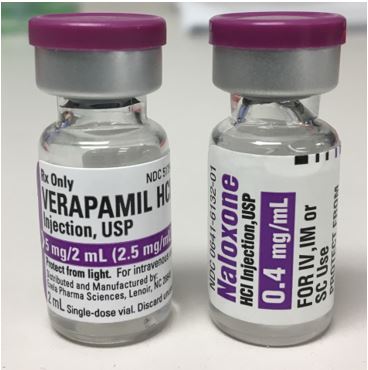 Imagine giving the opioid antagonist naloxone in error to someone with severe pain who is receiving morphine via patient controlled analgesia. That risk exists in hospitals that stock verapamil injection 5 mg per 2 mL vials manufactured by Exela Pharma Sciences and naloxone injection 0.4 mg per mL vials by West-Ward Pharmaceuticals. The vials use the same colors for the caps and container labels. The vials are also the same size and shape. Variation in the orientation of the printing on the labels may help differentiate them. Still, these vials look similar enough to create risk of mix-ups. We recommend hospitals purchase one or the other from a different manufacturer.
More Alerts
The FDA is warning that the medicine LaMICtal (lamoTRIgine) for seizures and bipolar disorder can cause a rare but very serious immune system reaction.
Misleading acetaminophen liquid packaging could lead to acetaminophen overdoses. Caution is advised regarding labeling and packaging of acetaminophen liquid products now on store shelves at several leading chain pharmacies. CVS, Walgreen, Walmart and likely other chain pharmacies are currently
The recently revised label on propofol 200 mg/20 mL vials by Sagent Pharmaceuticals is likely to cause problems during barcode scanning now that the...